I feel like the title of this blog was made for me. One of my strongest character traits is my inability to throw in the towel... sometimes to a fault. I have been like this my entire life, and I'll admit, it's gotten me to where I am today. From a state-champion age-group swimmer, to a 19-year-old single mother with college aspirations that weren't going to die, to a middle-aged oft-injured runner/triathlete, I try to meet every challenge in my path with the mindset that I can and will overcome.
Don't get me wrong... sometimes I get down. I have asked myself, is God trying to tell me something? Is this not what I should be doing with my life? But ultimately, the grit and tenacity that fill my heart overshadow any doubts that surface, and I go into problem-solving mode. It's like the song "Get Back Up Again" in the new kids' movie, Trolls. If you haven't seen it, here is a video clip:
Especially this part...
"
Oh,
If something goes a little wrong
Well, you can go ahead and bring it on
'Cause if you knock-knock me over,
I will get back up again."

I WILL get back up again... doesn't matter what knocks me over! The last time that I blogged, I told about the lemon tree that was once again blooming in my life. I was busy trying to make lemonade from the unfortunate "injury" that had recently popped up. I say "injury" because, still, we (myself, my doctors) are unsure if it is an injury, a condition, or WHAT to be honest actually is/was causing the pain in my quads.
I saw a new doctor, a pain management specialist at Riverside Methodist Hospital, and he looked at my MRI of my back. Like my chiropractor and sports med doctor, he didn't really understand why I was having so much pain in the front of my legs. The location of the anterolisthesis (slippage of the disc forward onto the vertebrae below it) in my lower back would cause pain in the back of my legs... but not in the front. Each of the specialists who I've seen have been very confused by this. My new doctor called me "atypical". Umm... why, yes, yes I am LOL! He did a right hip x-ray just to make sure there was no sign of fracture, and then ordered an EMG, which is a nerve functioning test. We found out that my leg and lower back nerves are functioning perfectly, yay!
The downside to this is that we still really have no idea as to what caused such a severe flare up of pain in my quads and groin area. My chiropractor did figure out that I had a misalignment/dysfunction in my pubic symphysis, and was able to successfully "pop" it back. THAT was an interesting experience... and ever since, I haven't had any groin/inner thigh pain. Additionally, the pain in my quads is now at zero, which is fantastic. So, for now, my doctors are permitting me to continue doing what I am doing. I can, of course, call if the pain returns. No epidural shot needed at this point (this was originally my doctor's recommendation).
So... that probably brings up the question for my readers, what AM I doing right now?
1) Walk/run intervals: My coach had me start back at 4:30 walk/:30 run intervals three times a week for 50-60 minutes each time about 4 weeks ago. I haven't had any pain, so I've been permitted to replace 30 seconds of walking with 30 seconds of running each week, as well as gradually add in more total minutes of both. I have worked my way up to 3:00 walk/2:00 run for a total of 225 minutes (4 sessions last week). I'm excited that this week will finally bring equal amounts of walking and running! It will be another 5 weeks before I am permitted to "just" run. This painstakingly slow progression back to running is frustrating to say the least, especially when I am not experiencing any pain at all. I am doing my best to trust in the process and stay the course.
2) Swimming: Swimming hasn't ever caused me pain, so when I wasn't able to run (or even walk well), I turned back to the sport of my youth. For the past two months, I swam 2-3 times a week (to be honest, it was usually only two... Saturday mornings are super busy and that was always my planned third workout). I decided to truly test the waters and entered in my first swimming competition in almost 20 years on March 4. It was exhilarating, challenging, fun, and scary, all at once! I won my age group in all but one race, and swam pretty close to where I figured I would be, given my level of fitness. Of course, I am as always my own worst critic, and as soon as the meet ended, I decided I needed to swim more frequently in order to get faster! This past week I managed to get in four workouts, and I plan on doing this for the next three weeks. Another meet looms on April 1, and I want to be better prepared!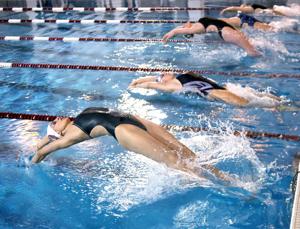 If only I could start this well in backstroke!

3) Strength training: I've been pretty religious about attending a weekly Body Pump (weight training) class and CXWORX (core class) at my new gym, Next Level. I love love LOVE Body Pump, and I'm so happy to be back at a gym that offers it! I went in for a massage from my massage guy, Brian, after a two month hiatus. He commented on how even though I hadn't been running, I appeared more toned than I was just a couple of months ago. I told him, that's strength training for you! I adore feeling stronger and hope that this will help me stay injury-free in the future as well.
4) Spinning: Oh, the class that I love to loathe! Seriously, I have tried so very hard to enjoy spinning. The only thing that makes it tolerable is the best spin instructor ever, Crystal at Next Level. She's so freaking inspiring! I still have to count down the minutes of each class. Dare I say, though, that this past week I actually started to feel... strong?!! I know that spinning can only help me on the bike come tri season, so I will continue to endure it.
These people look SO much happier than I ever do on the bike!
Needless to say, all running goals (marathon included) are on the back-burner for now. I have three triathlons planned so far this summer, and may add in a fourth depending on how things go. I also recently saw a 5K open water swim advertised for September that definitely has me interested!
Meanwhile, I shall continue persisting. I know no other way of life!